Wow. That's what I'm left with after an evening with Christine and Brian: Wow. I have heard both Christine and We're About 9 several times each and have always been impressed. But to have Christine and Brian (one third of We're About 9) both perform in my living room was better than I could have imagined. They were both on that evening. I found myself lost in their music so many times. The rich vocals, the fantastic guitar playing and the stories; not just the between-the-songs stories, but also the stories the songs themselves told. These are two of the very finest Indie musicians I have ever heard.
Brian opened the show with a single long set. We're About 9 is a contemporary folk group with soaring harmonies and engrossing storytelling. Brian is very much a part of the group even when he performs solo. He has the voice and the talent to do it all alone. Visit the We're About 9 website and find out where they're performing next!
Christine, hailing from Philadelphia, gave us an evening of her own self-described "NEOFUNKADELICFOLKTWANGPOPROCK" music, including music to released in June on her upcoming CD, Ruby Red. The reason I wanted to host Christine from the first time I heard her was because she is such an all-around musician. She sings, she writes and she plays. Whether she's drawing you into the pictures her songs paint or carrying you away with her guitar playing, she cannot fail to impress. I could not have been happier with her performance.
And the nicest treat of the evening is when Christine and Brian came together to play a duet encore, Heart of Gold. They never played together before but we couldn't tell. Just more proof of the musical talent these two outstanding performers bring with them to every show. Thank You both so much!
At my previous show I was a little lax with the picture taking. Well, I made up for it this time. Enjoy!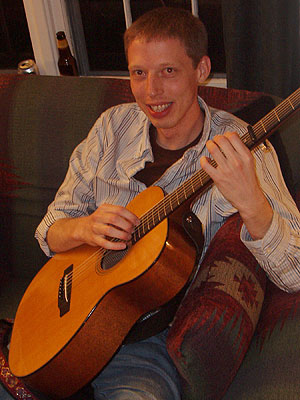 Brian chillin' after his set.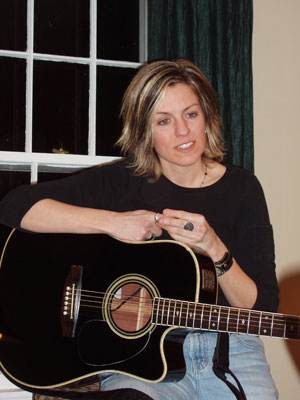 Christine chatting between songs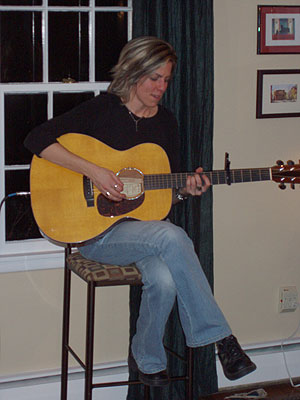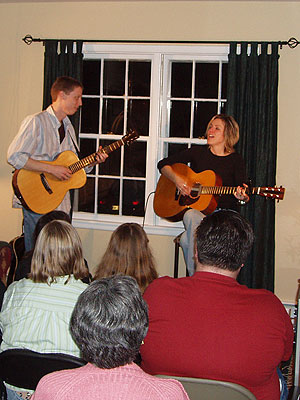 Brian and Christine playing an encore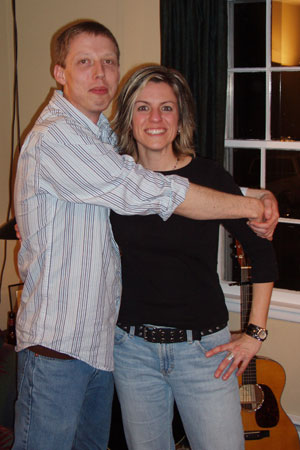 Brian and Christine after the show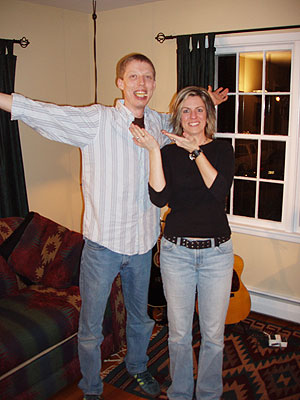 OK, I should've waited until he
swallowed to snap the picture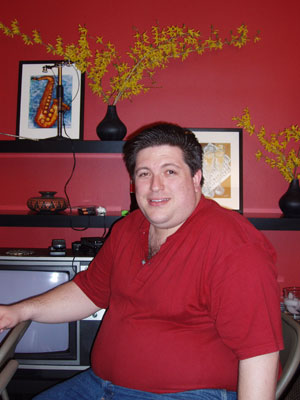 Greg did a little recording for me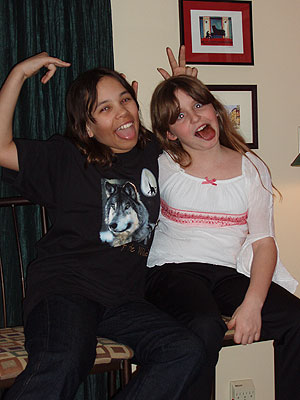 Cassandra and Libby ham it up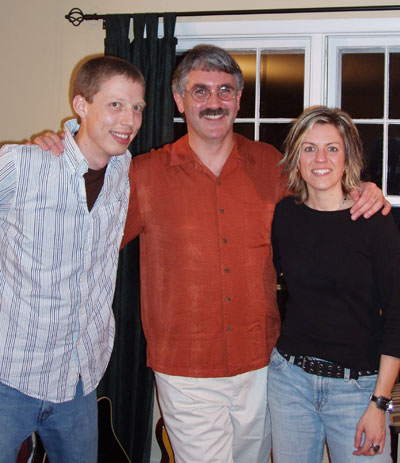 Together with Brian and Christine.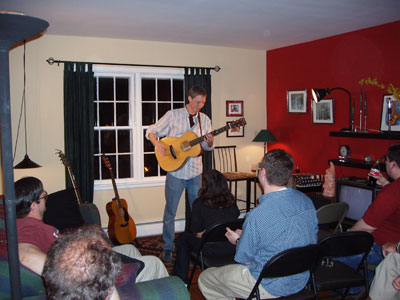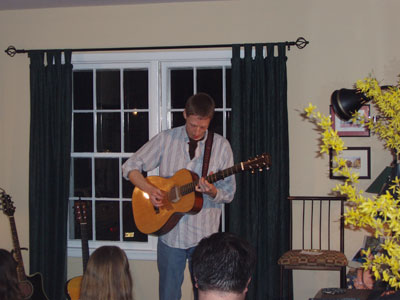 Brian, live on Bonnie Branch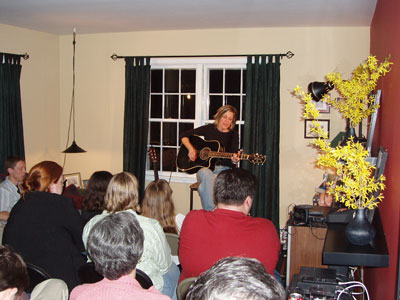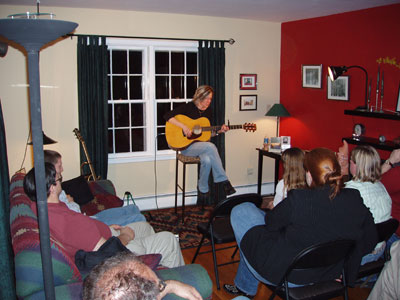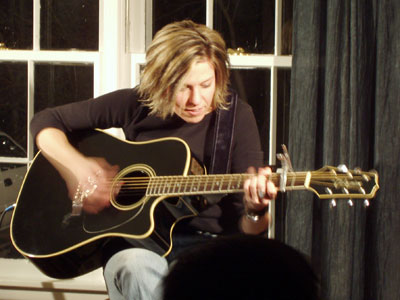 Christine enthralls the house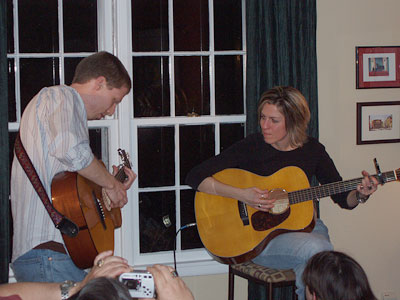 Neil Young couldn't have done Heart of Gold better!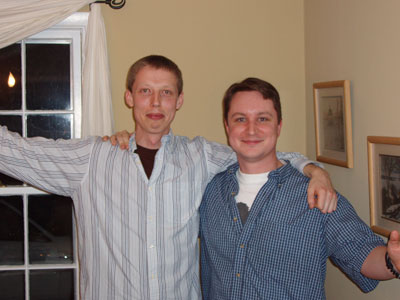 Brian and Mike pose for the camera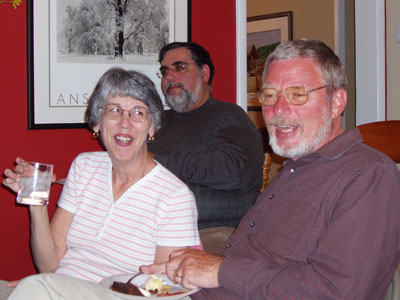 Mom and Dad Gundersdorf with Rob in the back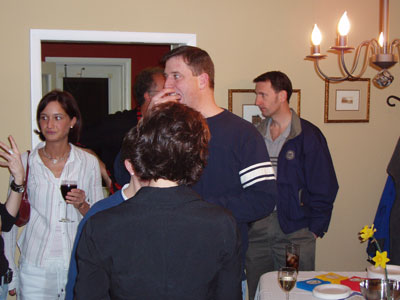 Taking a break for some wine and food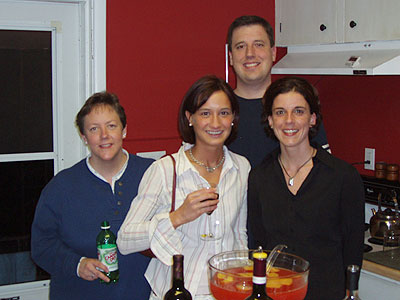 The Christine crowd:
Dawn, Jennifer, Larry and Jen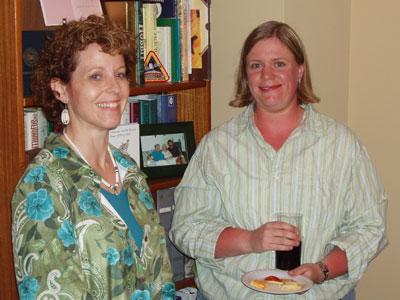 Roxy and Liz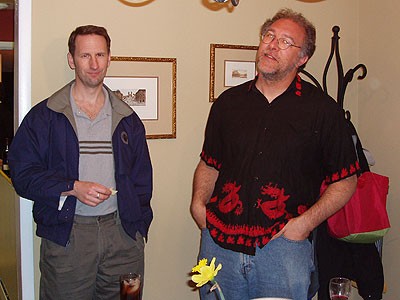 Tim and Dan not particularly happy to be photographed