A few years ago, when I was unhappily buying a rare CD from the major labels, fully aware that a mere fraction (or less!) of that money was actually making it to the artists, I stumbled across the website of a redheaded singer. I was vaguely aware of Indie music—Seattle grunge bands, local folk artists, etc.—but I didn't really understand the extent of the independent music scene. And I knew about MP3s but I had never downloaded any.
But upon finding Jennifer Marks' website with a good number of MP3s available, my curiosity was piqued. I downloaded all she had, found the MP3 player Winamp, and took a listen.
Wow! I was impressed. Her CDs were available on a website called CD Baby, which exclusively sells Indie artists. My first purchase was My Name's Not Red. I haven't looked back.
So on March 5th, 2005 I was honored to have Jennifer perform in my living room for my friends and guests. She gave us a fantastic show. She played for close to an hour and a half. Such hits as My Name's Not Red, Live, and It Turned Me On were in her repertoire for the evening. And best of all, she was wonderful to talk to, always gracious, accessible and appreciative.
Thank You so much Jennifer!
Unfortunately the cameraman didn't do so well that night. I ... er, I mean he got some good shots of the show but he got a little sidetracked talking to people before and afterward and just plain didn't think about photos. Nonetheless, a good time was had by all.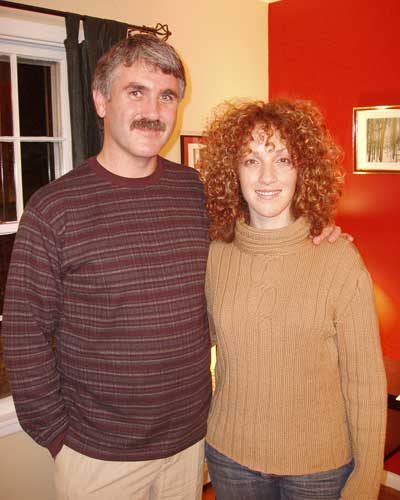 Third time's a charm! Jennifer Marks made my third house concert a fantastic success.