The Truth about Dave's True Story
I try my best to host a good house concert. I'm kinda obsessive about details so that everything goes smoothly. But with a band like Dave's True Story performing at your series, the details seem to be meaningless once they start to play.
And DTS played and the details just melted away.
Dave's True Story—also known as Dave Cantor, Kelly Flint, Jeff Eyrich and with George Mel on percussion—gave an outstanding performance and gathered a whole bunch of new fans along the way. We had a full house and I know they sold a huge pile of CDs.
DTS performed two sets drawing from their half-dozen CDs and more. They covered it all, from the large Dave Cantor composition repertoire, to their DTS Does Dylan CD, to Kelly Flint compositions, and even a cover or two. Slow ballads, upbeat funky jazz and humorous, intellectual ditties drawing on one's knowledge of literature or history were all in the set list.
Gorgeous springtime weather enhanced the event even more. Add to that a full house, warm and friendly people, and lots of great food for the potluck dinner and the recipe was set for a perfect show. DTS certainly knew how to take advantage of such a crowd. I always encourage people to interact with the band during a show and interact we did. We got some great stories from the band, we learned that rubato means to perform with out a strict rhythm, and Kelly sent around a photo book with pictures of her and Jeff's 4-year-old son. Everyone was at ease. Oh, and I introduced Kelly to Sam Adam's Cherry Wheat beer, which she really loved.
A Special Thanks to Dan & Mary Helfrich for allowing me to host this show in their home. They are dear friends of mine who have supported me since I started hosting Concerts on Bonnie Branch. I am forever in their debt for helping to make this show the fabulous success it was! And Thank You to everyone who brought food to the potluck dinner. No one went hungry because there was such an excellent spread and a huge variety. Well done!
So ends Season Two of Concerts on Bonnie Branch. I hope all of you who attended a show or more had a good time. I plan on being back in September for Season Three with more great music. Please join me.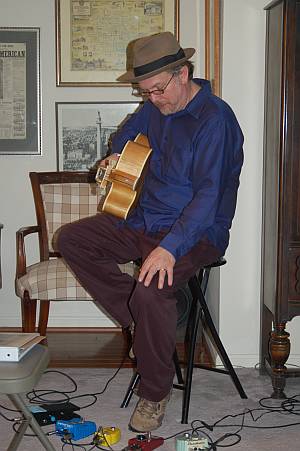 "Hmmm, which is the gas and which is the brake?"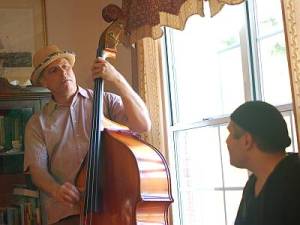 Jeff and George doing a sound check before the show.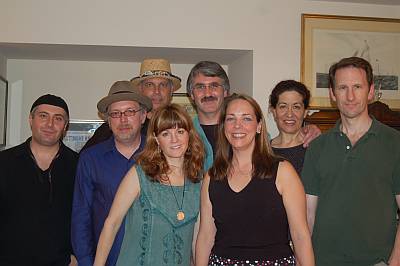 The Hosts and the Band: Kelly and Mary up front, and George, Dave, Jeff, Ryan, Carolyn and Dan in the back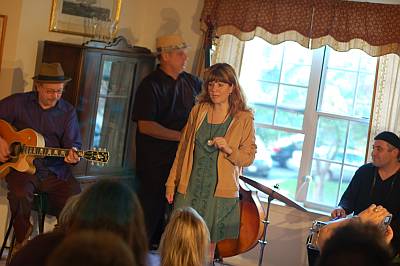 Dave's True Story is: Dave Cantor, Kelly Flint, Jeff Eyrich and George Mel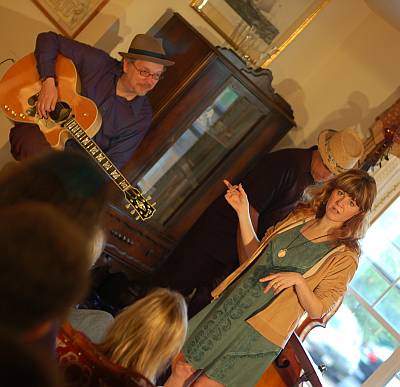 "He's Dave, not me."