Ho Ho Ho from Bonnie Branch! We had a packed house for a fantastic holiday show. There wasn't a seat open for Barbara & Mac and Krista & Dave. Even put some people in the aisle. Whereas before I thought about 28 would be the most possible. I now know that 31 still leaves room for two more in the aisle. And I also now know that spiked egg nog is popular at a holiday concert/party. Ah, the experience we house concert hosts gain with every show.
Krista Detor and her guitarist/chauffeur Dave Weber began the evening with a great set. They played about a half-dozen songs from Krista's two albums, 2003's Dream In A Cornfield and her new 2005 release Mudshow. Krista also provided a first for Bonnie Branch: she was the first keyboard player. She sounded great. Expect more keyboardists in the mix. Krista's such a fantastic singer/songwriter. Those smooth voice and fingers worked their magic on the house with songs such as Mudshow, Fishing and Steal Me A Car. PLUS! Krista gave us yet another first: The first song written especially for a performance in my living room! Sheriff Santa From Montana. Thank You Krista!
(I'll let you in on a little not-so-secret secret... I already plan on bringing Krista in for her own show next season. Yup, look for her to come back in the fall of 2006.)
Barbara and Mac gave everyone a headline act to remember. These two are seasoned singers/songwriters/performers who know how to give an audience what it wants. Being the host, I asked them to focus on the Blues that they're both well known for. They didn't dissapoint me. Plus, seeing as this was a holiday party, they also threw in some fantastic Christmas songs. My favorite original tune was Big Bad Wolf Blues that Barb sings with such power and Mac's fingers just fly up and down the guitar. "Blow! Blow! Blow like a hurricane...!" Throughout the evening Mac gave us a lot of slippery guitar solos and riffs as well as a couple solo tunes. I didn't know if I should close my eyes and get lost in the music or keep my eyes open so I wouldn't miss the wizardry of his fingers mixing their magic potion on his guitar strings. Barbara even proved her own fantastic talent on a classical guitar solo that everyone loved. Barb & Mac invited Krista & Dave up to join them on a couple Christmas tunes. For an unrehearsed sing-a-long, it was a lot of fun.
I want to thank everyone for coming out to the show and helping to keep the 2005 Holiday Season going strong. And if I do any more holiday shows, I promise to have a lot more spiked egg nog on hand!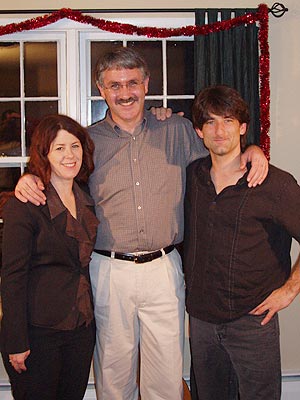 With Krista and Dave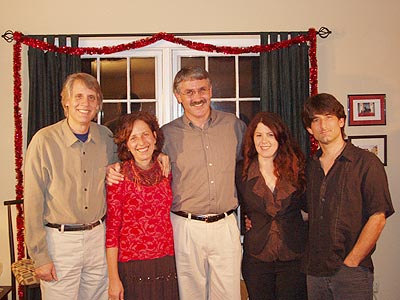 Mac, Barbara, Ryan, Krista and Dave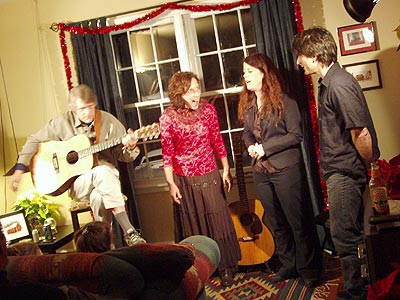 All four musicians sing together on Deck The Halls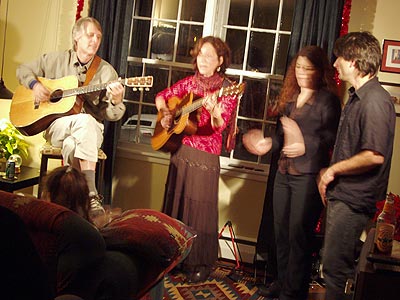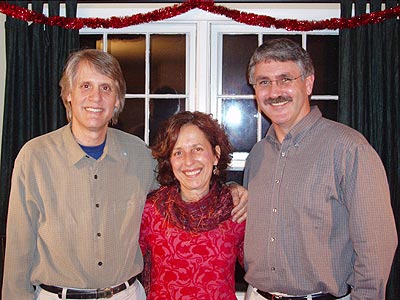 With Mac and Barbara