Not even the Blizzard of '06 could stop Folk Night on Bonnie Branch! When I talked to the musicians, we all decided to go ahead with the show despite the threat of snow. As showtime approached, we were worried we'd only have maybe a half dozen of my closest neighbors show up. But Surprise! Twenty die-hard music fans braved the elements to come to a fantastic night of folk music. I want to thank each and every one of you for making what looked to be a cancelled show into a fantastic success!
Katie Graybeal & Brian Gundersdorf of We're About 9 fame shared the stage with Iain Campbell Smith of Iain Campbell Smith fame. I learned when I first started doing house concerts to book local musicians during the winter months, just in case a storm came through. Can't get any more local than Brian and Katie coming from right here in Ellicott City and Columbia, MD. And Iain, well, he's from Canberra, Australia. Close enough for local, right?! OK, so he lives in Washington, DC with his lovely wife, Maryanne, who also braved the storm to join us.
The music was on. I think the snow made everything extra special because the evening was so different. You knew you had people in the audience who really, really loved the music, or else they would have just stayed home. That sort of enthusiasm just rubs off on musicians I think. They played in the round, thus treating the audience to an eclectic blend of contemporary folk with roots from suburban Maryland to Papua New Guinea; from last week in Baltimore to post WWII in the Solomon Islands.
Katie and Brian have a huge following because of their expert and catchy songwriting and their intense harmonies. They know how to connect with their audience instantly. Their songs could be very well about you or your best friend ... especially if you or your best friend are just a tad bit quirky.
Iain writes songs based in history, love, war, and humor, among other themes. One moment he'll have you laughing, then next caught in a story from before our childhoods. He brings an Aussie perspective that's fresh and fascinating to an American audience.
I'm really lousy with knowing song titles or else I'd give examples from the show. So instead I hope I can give those who attended a bit of a reminder of the emotions that came from the show; and for those of you who couldn't make it, I hope to entice you to get out and hear these fantastic singer/songwriters as soon as possible!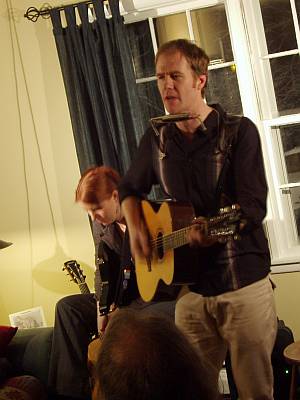 Iain Campbell Smith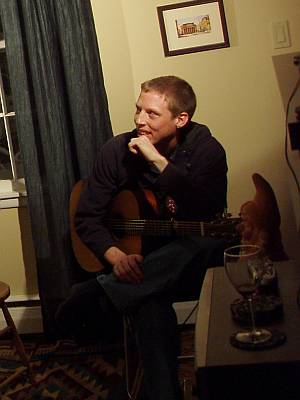 Brian Gundersdorf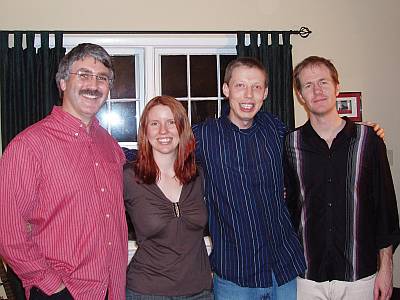 Together with Katie, Brian and Iain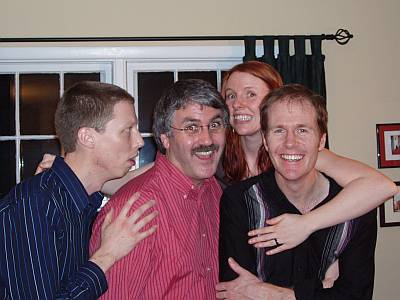 We were just trying to show we weren't scared of the snow falling outside...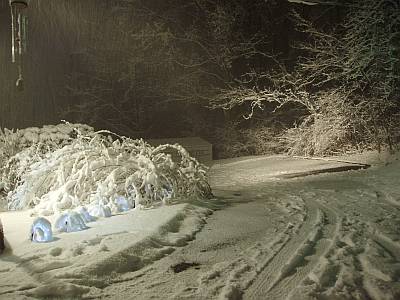 ...And the snow was coming down by the time the show was over!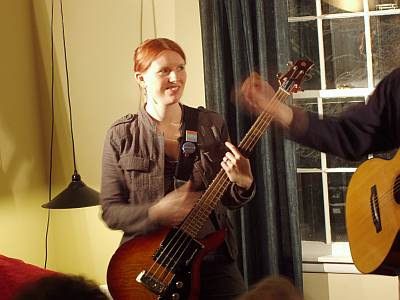 Katie Graybeal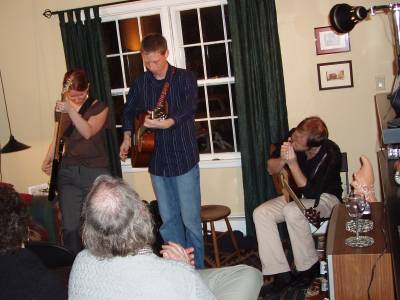 All three musicians jam together.