Natasha Jenkins, Violin,
with Deborah Allen Accompanying on Piano
Classical Night on Bonnie Branch was an overwhelming success thanks to Natasha and her accompanist, Deborah, as well as her younger brother Paul and her parents, Helen and Charlie.
Mark your calendar: January 21st, 2006 will go down as the beginning of the annual Classical Night on Bonnie Branch! Concerts on Bonnie Branch received an outstanding performance by Bonnie Branch's own Natasha Jenkins. But Natasha didn't make the evening spectacular all by herself, there was also the support of her wonderful family and friends and many Bonnie Branch regulars. We had a full and enthusiastic house helping make the evening such fun. We even had to turn down a few people who tried to reserve seats late. (Sorry!)
Accompanying Natasha was Deborah Allen on piano. Deborah is an accomplished professional pianist who has played with Natasha many times. (Thanks Deborah for stepping in at the last minute to help out!) Natasha's younger brother Paul Jenkins also joined her and Deborah for an encore. Paul's a freshman at UMBC (Univ. of MD, Baltimore County) and is also studying music. He did a great job. Who knows, he may well be a big part of some future Bonnie Branch show.
Natasha, a junior at Oberlin Conservatory in Ohio, has been playing violin pretty much since she was big enough to hold one. She's working on a bachelor's in music and plans on continuing on working towards a graduate degree before becoming a professional musician someday. She is well on her way!
Natasha's program included the following selections:
Caprice II by Paganini
Lark Ascending by Vaughan Williams
Solo Sonata, Moderato by Prokofiev
Nigun by Bloch
Meditation from Thais by Massenet
Tzigane by Ravel
Double Concerto, Movement 1 by Bach was the encore with Paul joining in
All her selections were technically challenging and masterfully executed. My personal favorites were Lark Ascending and Tzigane. I literally got shivers, they were so beautiful.
Rest assured, you can expect future classical concerts on Bonnie Branch!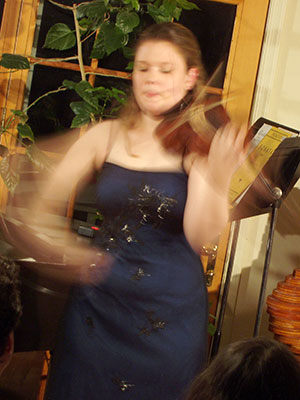 I would like to thank Natasha's parents, Helen & Charlie, for allowing me to host this wonderful event in their home. It was very generous of them. They have been strong supporters of Concerts on Bonnie Branch and I very much appreciate everything they did to make this evening enjoyable for everyone.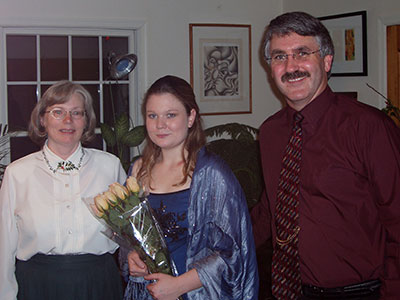 Deborah Allen, Natasha Jenkins and me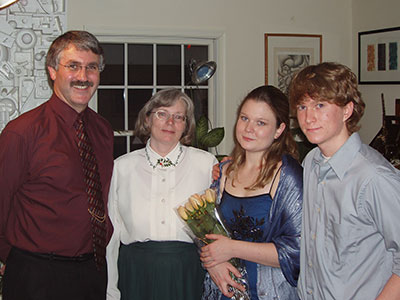 Natasha's brother Paul joins the photo op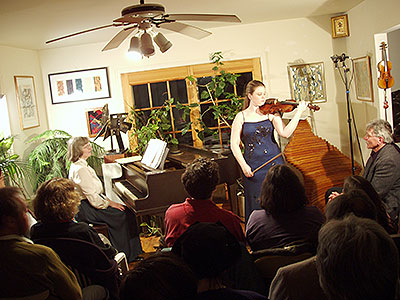 Natasha prepares to begin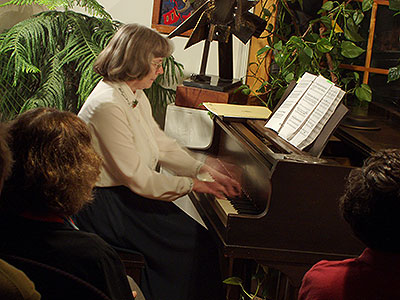 Deborah provides perfect accompaniment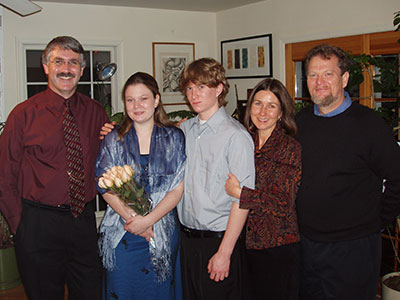 Joined by Natasha's parents, Helen & Charlie