Kirsten Thien and Amy Fox didn't have to worry about any winter storms, what with 70-degree weather providing the backdrop for an outstanding night of acoustic and electric rock-n-roll! About the only storm was the thundering applause after every song. Both of these singer-songwriters were well received, giving us all a nice long evening of music and laughter. (By the way Amy, you never did tell those two jokes you said you knew!)
Amy Fox led the evening off with her solo acoustic show. She toned down the driving, edgy rock from her CDs to better fit the atmosphere of a house concert. But that doesn't mean she wasn't showing off her true talents. She put passion into every song she played for us. Amy has a versatile voice that seems to be compared to many different musicians, but which is completely her own. She came out of semi-retirement to play for us. She only played a couple songs that she's already recorded, like Do It, as well as a couple she wrote just for this show, like Brand New Life. She even gave us a Shooter Jennings tune called Southern Comfort—she and Jeff are friends with Shooter as well. So we were treated to a lot of new music she's considering putting on a future third CD. And what a treat it was. I think we'll be seeing Amy again on Bonnie Branch when that next CD comes out!
Kirsten Thien is a true professional. She has everything in place to make the breakthrough into the big time. Her current CD, You've Got Me is an eclectic mix of styles showing off her vast talent as a singer and songwriter; she has a stage presence that would make even Simon Cowell take notice; and she has the great fortune to have guitarist David Patterson tour with her when she's not playing with her entire band. David, a superb musician in his own right, makes a great Kirsten show into a real event. Kirsten and David gave us a good number of tracks from both her current CD and her debut release, She Really Is. She started off with a blues tune, Hold On To Me and continued on with other tracks from her CDs, such as Mountains, If You Wanna and even the title track, You've Got Me. During the show she said it'll probably be another year before she goes back into the studio to start recording her next album. That's about eleven months too long for me.
The frosting on the cake for the evening was the encore that Amy, Kirsten and David all performed together. They chose an Aretha Franklin tune, Baby I Love You. Wow. Rather than me write about it, just take a listen: I Love You - Encore with Amy Fox, Kirsten Thien and David Patterson (MP3, 4.4MB)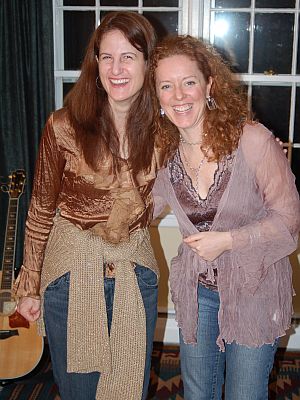 Amy and Kirsten, real Rockin' Babes!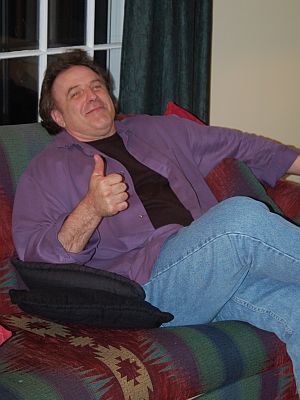 Jeff gives the evening a thumbs up!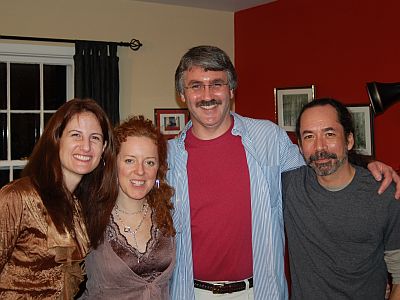 The Happy Host with the fabulous musicians!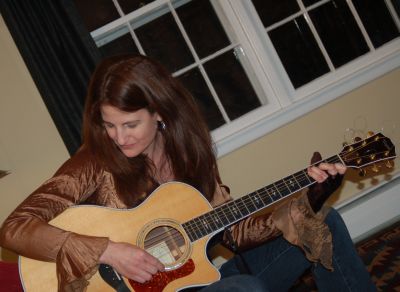 Amy giving a private encore (more reason to host house concerts!)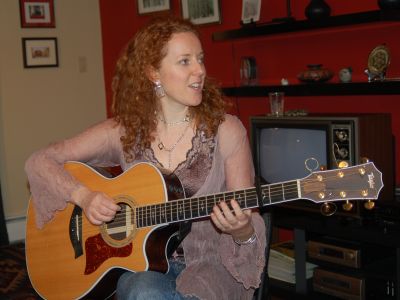 Kirsten giving her private encore too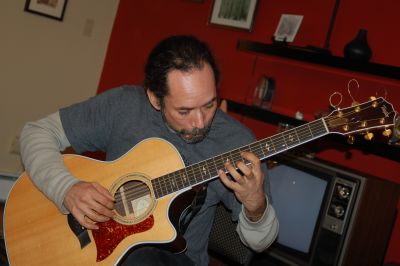 David playing Yes's The Clap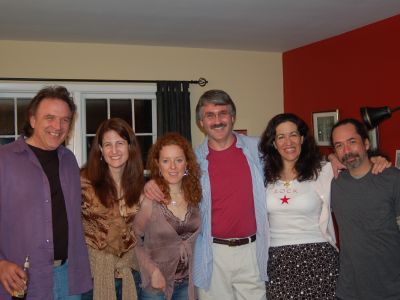 Jeff, Amy, Kirsten, Ryan, Carolyn and David (Wow! I'm not the tallest!)