Season 3 Ends on a High Note with Krista, Bob and Dave!
I may never have to write another blurb about one of my shows again if I keep inviting Willa! It's so much easier for me by plagiarizing excerpts from her messages than writing my own. So read on...
"Having just been introduced to house concerts through Bonnie Branch last November, with Krista and Dave as the first concert thus experienced, I lucked out in a big way — so it's easy to see why I'm completely, irrevocably hooked on live acoustic music now (as well as devoted fan of Krista's). There is just so much more to delight listeners in a live performance... the back stories, the humor, the interaction among musicians and with the audience!
"Saturday's 'two-fer' concert was far more than I could've imagined it would be. I thought Bob and Krista would each perform for maybe an hour, but instead we were treated to a full evening's worth of performances by each... four hours!!!" (Editor's note: The intermission was well over an hour long. But nonetheless, it was a long and wonderful evening.) "It was quite wonderful! I was so pleased to be able to hear some of Krista's songs from her new album coming this fall, Cover Their Eyes, which promises to be another miracle, like Mudshow to which I never tire of listening.
"It was a pleasure to experience my first awesome Bob Sima concert! And as you would expect, Krista Detor's performance left me quite breathless... she is amazing. Krista's uncanny ability to write music and lyrics that get to the heart of the matter defies description... I feel it to my soul. Both Bob and Krista are superb songwriters, vocalists, and musicians whose talents absolutely cannot go unnoticed by the masses for long. In my humble opinion, few well-known artists can hold a candle to them.
"Dan and Mary were so gracious and hospitable as your 'Off Bonnie Branch' hosts; their home is just lovely, comfortable, and inviting — a wonderful setting for our favorite singer/songwriters of all time! The concert itself was phenomenal! I just couldn't stop marveling over how blessed I felt to be there, to bear witness to another spectacular presentation of pure, spine-tingling talent! No two performances are ever the same, so each event brings its own unique blend of storytelling, anecdotes, one-liners, and the music — always the splendid, gorgeous music.
"I've become a slave to house concerts... they're addictive, an acoustic music-lover's version of crack, I once heard a friend say! Once you get a little, it's impossible to resist going back for more!
"Your house concert groupie,
"Willa"
Thanks much Willa, always wonderful to have such a Super-Fan show up and enjoy the shows! And of course, a HUGE THANK YOU to everyone who came and enjoyed the evening. You're the best audience a house concert host could ever have!
---
To find out where Krista and Dave are playing next, visit KristaDetor.com.
To find out where Bob's playing next, visit BobSima.com.
To learn what Dave does during the day, visit AirtimeStudios.com.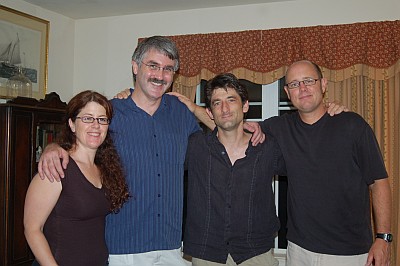 Krista, Ryan, Dave and Bob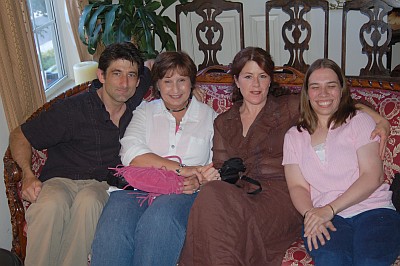 Dave and Krista pose with super-fans Willa and Kristen (who came all the way from Michigan!)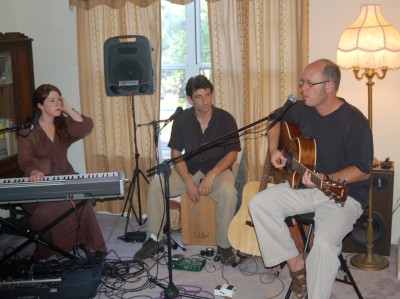 Krista, Dave and Bob do a pre-show sound check. This is the first time we've used a PA at a Bonnie Branch concert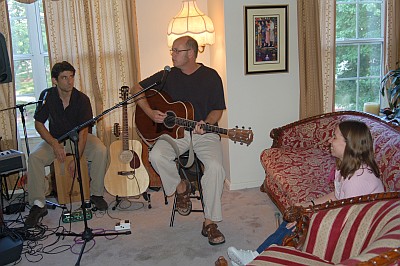 Kristen watches as Dave and Bob continue the sound check