Nadine & Bob Play Together For The First Time With Unbelievable Results
Season 3 arrived on Bonnie Branch on Saturday, October 14th, 2006. And what an arrival it was! Nadine Goellner and Bob Sima came to play ... and play they did! Three hours of music and talk filled my packed living room. And the music was fantastic!
Bob started off the evening with a solo set of songs from both his upcoming CD, Pour It On (being released Nov. 10th!) and his band Stereopool's CD Freedom Finds You. This man has a way with writing songs. He's a master at capturing the subject of a song not just in his insightful and catchy lyrics, but also in the music and riffs that make them flow. Whether he's singing about the world through his 4-year-old son's eyes or through the eyes of a guy who just got out of a relationship with a rather, uh, chilly girlfriend, Bob gets the point across with style.
Next up, Nadine did her turn solo and kept everyone riveted in their seats. Nadine, a wonderful acoustic jazz singer, started the set off right with her vocally powerful tune "Starry Night." She moved through her set effortlessly going between strong then subdued, or upbeat then mellow. All the while her voice holding steady and clear. She performed tunes from all three of her CDs, Remember My Name, Sing It To Me Anyway, and her 2006 release, Nadine Goellner Live.
After the intermission, Nadine and Bob came back together to play in the round. This was definitely the highlight of the evening. They played off of each other with ease both musically and verbally, having a great time like they were old friends. Both played new music they had not yet recorded, to the crowd's delight. And Nadine provided Bob with a bit of backup on several songs on guitar, and during Bob's tune "Frozen" he invited Nadine to join in with a verse of scat singing. It was an absolute crowd favorite.
Download an MP3 version of Frozen by Bob Sima (posted with permission).
Visit Nadine at NadineG.com and on Myspace.com
and visit Bob at BobSima.com and on Myspace.com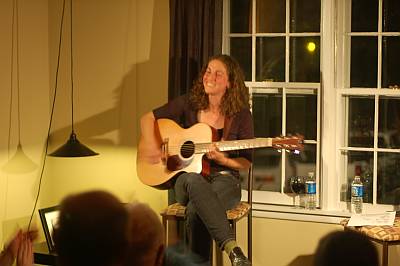 Nadine Goellner during her solo set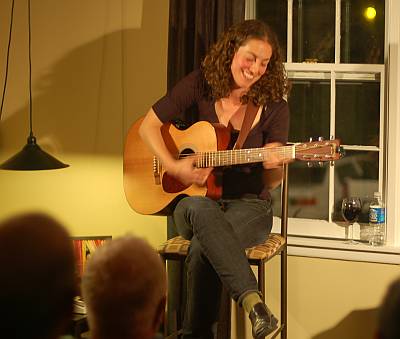 Bob and Nadine and Ryan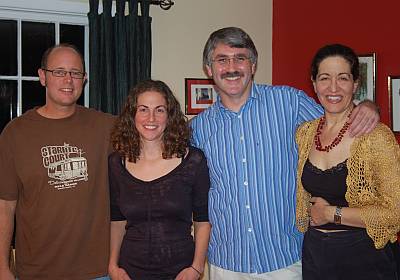 Carolyn joins in for a group shot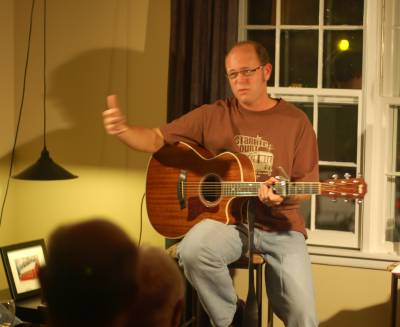 Bob Sima during his solo set