On Saturday, January 12th, 2008
Concerts on Bonnie Branch
with the Support and Cooperation of the
Howard County Historical Society
Presented
"Once again, Ryan Simmons offered a tribute to connosieurs of classical music with his latest house concert offering, held on January 12, 2008, at the Howard County Historical Society Museum, in historic Ellicott City. The Quintaero Chamber Ensemble consists of five serious musicians with a flair for holding their audiences spellbound: Kari Shea on Bassoon; Tracey Schutty on Flute; Heidi Schultz on Oboe; Noelle Presby Lipa on Clarinet; and Jennifer Roy on Horn. Woodwind ensembles are rare, so the audience was treated to an introduction and explanation for each selection. It was apparent that these musicians devoted uncounted hours to rehearsals because their harmony and unity were superb. The evening began with a brisk Marsch by Mozart, written in 1797. It was exquisitely performed in a lively, frothy manner, and brought to mind the effervesence of champagne. The march was followed by Three Shanties by Arnold (one of which was a lively play on the folk tune, "What do you do with a drunken sailor"). Next up was La Cheminee du Roi Rene (The Chimney of King Rene) by Milhaud, followed by the fourth movement of a Beethoven Quintet. The set was well chosen to highlight the development of the quintet format during the 18th and 19th centuries.
"The second set was a showcase of later music, including Ligeti's Sechs Bagatellen (movements one, three, and four), Five Easy Dances by Agay, Trois Pieces Breves (Three Short Pieces) by Ibert, and ended with a brisk rendition of Maple Leaf Rag, by Scott Joplin. The decision to provide explanations before each piece was an outstanding idea, as it gave the audience a greater depth of understanding and appreciation for the music. The Howard County Historical Society Museum, located in an old church, could not have provided a better setting for a classical wind ensemble. The music soared up over our heads and into the rafters. Listening to music that was written several hundred years ago, we were surrounded by evidence of the past, as the museum artifacts included an officer's tricorn from the War of 1812, letters and records written in the finest of sepia tinted copperplate handwriting, Victorian era clothing, and a framed family tree marked by circles of the hair of each family member. It was a spectacular night." —Carolyn Piccotti
Marsch ~ Mozart
Three Shanties ~ Arnold
La Cheminee du Roi Rene ~ Milhaud
Quintet (mvmt IV) ~ Beethoven
~ Intermission ~
Sechs Bagatellen (mvmt I, III, IV) ~ Ligeti
Five Easy Dances ~ Agay
Trois Pieces Breves ~ Ibert
Maple Leaf Rag ~ Joplin
Thank You Carolyn for the wonderful write up. Very special Thank You to Shelley Wygant and the Howard County Historical Society, including museum curator Karen Griffith and husband Hank, for making the evening possible. And of course, the biggest thank you goes to Quintaero for such a spectacular concert.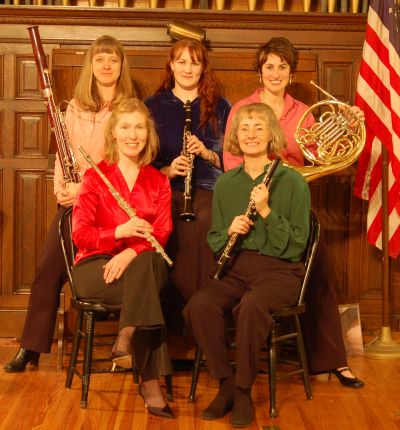 The Quintaero Chamber Ensemble is
Kari Shea, Noelle Presby Lipa, Jennifer Roy (rear)
Tracey Schutty, Heidi Schultz (front)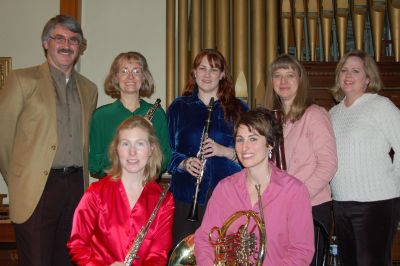 Ryan and Shelley join for a group photo