On Saturday, March 15th, 2008
Concerts on Bonnie Branch
Presented
While I truly enjoy all of the musicians I host and I haven't had a bad show in the four years I've been hosting Concerts on Bonnie Branch, there must come a time when a concert is so good it just stops me dead behind my camera. Beaucoup Blue was that concert.
Wow.
But first, I have to say that Acacia Sears was a wonderful start to the evening. She is my favorite local up-and-coming musician and my pick to watch closely over the next year or so. She played a short set, was warmly welcomed and she told me afterwards she sold a lot of CDs. Acacia's sweet, clear voice together with her poetic lyrics are a perfect combination for her warmly human, but angst-filled songs. I very much hope to have Acacia back next season for a full show.
David & Adrian Mowry, a.k.a. Beaucoup Blue, are a precision-machined duo with perfect harmonies, give-and-take guitar playing, sharp songwriting skills and a smooth rapport with both each other and the audience. I suppose being father and son means they know each other pretty well. David's expert command of the dobro and slide guitar added an even loftier dimension to their music. (The dobro is the guitar with what looks like a automobile hubcap on it.)
They played much of the music on their two CDs, Hearts At Home and Out of the Woodwork, including a couple traditional blues numbers such as Little Wheel and Make Me A Pallet On Your Floor. They also performed a couple Bob Dylan songs with the requisite Philosophy-of-Bob commentary. Probably the highlight of the evening was David's rendition of Rainy Night in Georgia, which has been covered over the years by greats such as Ray Charles, Tennessee Ernie Ford, and Hank Williams. You could hear a pin drop as David finished the tune. Then the crowd erupted in the most enthusiastic applause I think I've ever heard in my living room. Truly stunning.
I took a bit of a chance when I booked Beaucoup Blue for Bonnie Branch because I had never heard them live. I loved their CDs and I got excellent reviews from people who had seen them perform. I am so happy that I did take that chance. Thank you David & Adrian!
And of course, thanks to everyone who came to the show. Next up is my Season Four Finale featuring Brooklyn-based Debbie Deane and local boy Rob Thorworth.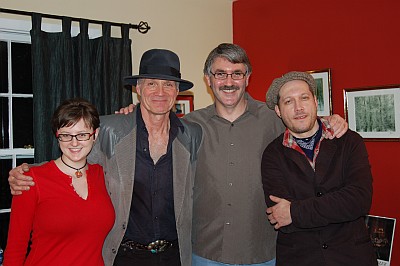 Acacia Sears, David Mowry, Ryan, and Adrian Mowry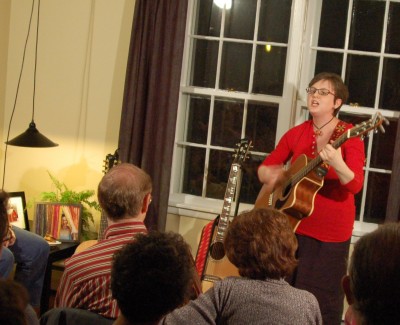 Acacia Sears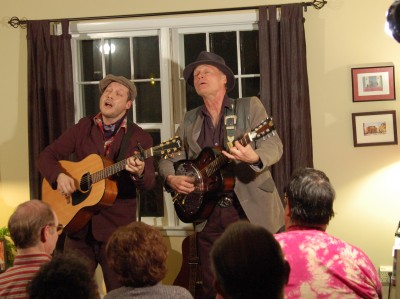 Beaucoup Blue