Christine Havrilla is without a doubt one of my Top Ten favorite Indie musicians. Maybe even Top Five if I ever really tried to quantify it. She put on a show that her Bonnie Branch audience will not soon forget. She and Gretchen Schultz are a perfect harmonious duo, working Christine's guitar and lead vocal effortlessly together with Gretchen's supporting vocals.
Here's what I wrote about Christine on my site when I was promoting the show: "Christine is one of those rare singer/songwriters who has it all: outstanding vocals, guitar playing and songwriting. [...] She's a musician's musician. Her songwriting runs the spectrum from rockin' the house to touching the emotions, from humorous to hot. And her strong, unwavering vocals and her virtuosic guitar playing move through the colors of that songwriting spectrum to match every mood, every emotion, with perfect clarity."
I was right: she rocked the house! And rocked it and rocked it and rocked it! A solid two hours of music. We were treated to some of her older tunes like Is It Possible, Rest Of Your Life, Change Of Scenery, and Every Now and Then, plus plenty of newer tunes including some unreleased as well as ones from her recent CD, Velocity," like Blinders, Superstar and Really Really Good Kiss. On top of all that was the super-audience participation song Time After Time, made famous by Cyndi Lauper. ("I will be waiting!" My throat still hurts from hitting those high notes!) Christine has a great time keeping everyone in the audience involved.
Nat Duggan performed a short opening set for us. Nat came to my attention because she's a big Christine fan just as I am. After hearing a little bit of her music, I invited her to play a few songs. She did a great job! She performed three of her own songs and received a lot of praise from the audience. Her smokey voice and mature songwriting belie the fact that she's only 15 years old. With talent like she has at 15, I think it's safe to say she can have a long career in music if she's interested. I plan on keeping my eyes and ears open for her future performances.
To find out where both Christine and Nat are performing next you can visit them at their websites:
Christine Havrilla - http://christinehavrilla.com
Nat Duggan - http://myspace.com/natduggan
Thanks again everyone for coming out to the show!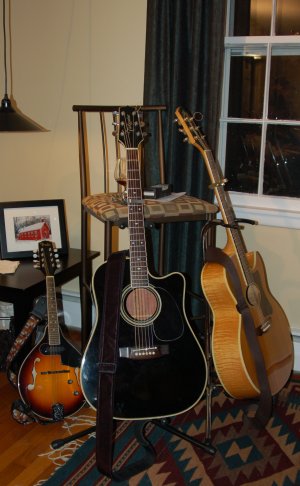 Nat, Christine, Me (Ryan) & Gretchen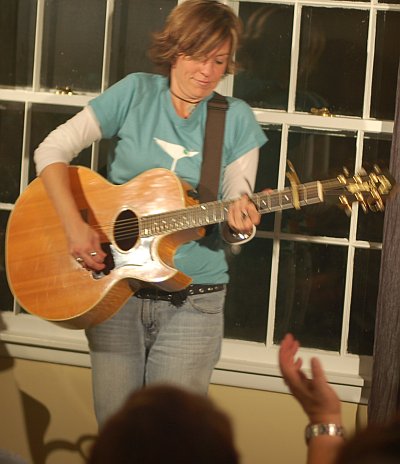 Christine rockin' Bonnie Branch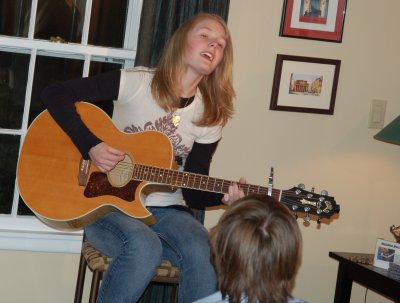 Up-and-coming star, Nat Duggan