A Warm Fall Evening of Songs and Stories
I specifically take summers off because I don't have central air conditioning. By this time of year we're supposed to have highs in the 60s to low 70s. Not this year though. Warm, somewhat muggy weather ushered in the second Concert on Bonnie Branch of the season. The water and white wine were flowing, as well as the Apple Harvest Martinis (Thanks Dan!).
Ellen Cherry opened the show. One of the things we learned from her is that she was a history major in college. So it only makes sense that she likes to write songs about the past. She started off with 1933: To California about a depression-era mother migrating west to save her family. She also sang about the sinking of the Titanic and how a quartet played on. She also threw in a tune called 1893: A Girl at the World's Fair about a woman's disappearance at the hands of a serial killer. And lest you think she only sings about tragedy, I Hope to Dream of You Tonight is about telling people how you feel about them sooner rather than later. All the time her wonderful vocals and guitar playing provided a the perfect backup to the stories spun in her lyrics. Definitely look for Ellen to make a return trip to Bonnie Branch in the future.
David Morreale started right off with the title track to his current CD, From the Dirt. He treated the full house to such a broad range of music, showing off his fantastic talent at songwriting, poetry and guitar playing. Add to that his own great storytelling and his sense humor (recall his song Tu Ning that he wrote and other guitarists are playing all the time but he's not getting a dime in royalties?). He also shared his softer side with his song to his wife, Alison, Missing Baltimore, another tune called Somebody To Come Home To, and a recent song about a starving singer/songwriter getting a job to pay the bills. And then there was the story and song about a singer/songwriter trying to buy a house. "So what do you really do for a living?" asked the banker. That resulted in the song Floor Plans about building a life together in their first house.
David played a couple Jonathan Byrd covers as well. And in case you think he's just a folk singer, what folk singer would do a jammin' version of Play That Funky Music White Boy? He also played a cover called The Streets of Baltimore.
David is such a fantastic and gracious musician. It was an absolute pleasure to host him. Please get yourself on his mailing list and go see him at one of his regular gigs.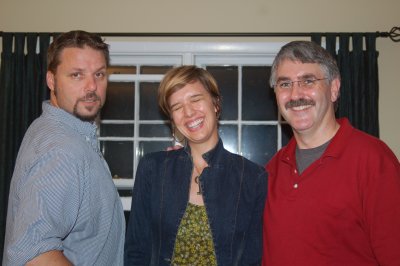 The Musicians and Me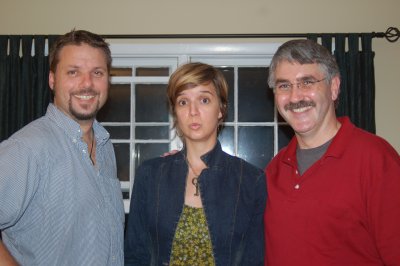 Can't get a straight face out of anyone tonight!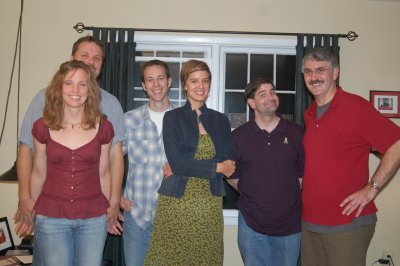 The Musicians and their Groupies
David & wife Alison, Shaun & Ellen, their "sponsor" Paul, and me