Season 4 Begins With Class!
Ah, where to begin. It's times like this that I wish I were a real writer (I know, I've complained about that before, and sadly, it's still true) because then I would have all the proper metaphors, superlatives and flowery prose right at my fingertips to describe our evening with Jen Chapin, Stehpan Crump and (the original!) Jamie Fox. So instead, you'll just have to suffer through a gearhead's take on the evening ... or click away to some other website.
The evening was about as perfect as one could ask for a house concert: a packed house, beautiful weather, the best food to ever appear at a show, and of course, the sweet sounds of Jen and the Boys coming from my living room. Jen is obviously an artist who fills much larger venues than my living room. But she still loves getting in front of folks at places like mine for the intimacy and interaction. Talking to Stephan, he mentioned it creates an entirely different show when they're a few feet away as opposed to up on a stage and much farther away.
From their opening song, Strip it Bare—which is also the first track from Jen's latest album Ready, the band had everyone in the audience hooked. Stephan's great bass riffs, Jamie's funky guitar licks and Jen's edgy vocals. It definitely set a positive mood for the rest of the evening.
The band played six tunes from Jen's previous album Linger, five from Ready as well as some great covers.
Jen showed us just about every facet of herself possible through her music. From the simple pleasures that beg us to enjoy life in songs such as Strip It Bare, Goodbye, Little Hours (my personal favorite), and Let It Show (about the birth of her and Stephan's son Maceo); to her political activism in her own songs Passive People and Go On and her covers of Stevie Wonder's You Haven't Done Nothin', John Lennon's Nobody Told Me and Bruce Springsteen's Born In The U.S.A.; to the love song I Could Fall In Love With You; to her terrible sense of loss in Hurry Up Sky, about the death of a close friend on September 11th, 2001. Additionally, Jen also showed us her sense of musical history in her song Me Be Me, inspired by the strong-willed blues singers of the past such as Bessie Smith, Ma Rainey, and "Big Mama" Thornton who sang in food metaphors. Through it all, she maintains an unassailable optimism, which she shows in songs like Gold, NYC and an unrecorded tune Lullaby.
Stephan and Jamie had ample opportunity to show off their outstanding talent. Stephan pulled out his bow more than once, but never so effectively as on the intro to Gold, a very free-flowing and sometimes haunting solo that may have been an overall improv, but it still resonated with the main theme from the rest of the song. And Jamie was not about to be outdone: he ended Gold with a spirited electric guitar solo that was a fantastic counterpoint to the intro.
I'm always so disappointed when a show is over. It means that all the anticipation that's built up preparing for it has been released and all that's left is the great memory and a bit of emptiness. It's such a warm feeling bringing musican and audience together. But we all eventually have to go home, go to bed and go on to the next day. Jen Chapin's performance brought together both sides as strongly as any other concert I've hosted. But I can live with the touch of emptiness because I know there will be another concert. You can bet on it: she'll be back on Bonnie Branch someday.
In case you're interested in the set list, here it is:
First set:
Strip It Bare
Passive People
Goodbye
Let It Show
Little Hours
Into The Mystic, Van Morrison cover
Nobody Told Me, John Lennon cover
Go On
Second set:
Open Wide
Born In The USA, Bruce Springsteen cover ... and Boss approved!
NYC
Hurry Up Sky
Me Be Me
Starman, David Bowie cover
You Haven't Done Nothin', Stevie Wonder cover
Lullaby
Gold
Encore: I Could Fall in Love with You
---
To find out where Jen and the Boys are playing next, visit JenChapin.com.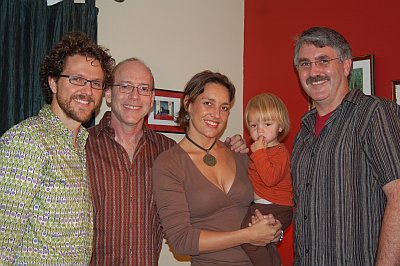 Stephan Crump, Jamie Fox, Jen Chapin, Maceo and me, Ryan